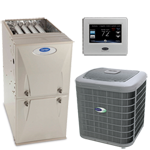 What is a Hybrid Heat System?
A Hybrid Heating System consists of a high efficiency gas furnace and heat pump systems
Feature and Benefits of a Hybrid Heating Systems:
Great Savings Advantages from a Hybrid Heat System:

Hybrid Heat systems can save several hundred dollars per year versus a heat pump system or a conventional gas furnace and air conditioning system.

Dual Sources of Heat for your home

Heat Pump systems can generate $2.00 to $4.00 worth of heat for the $1.00 spent on electricity. However, as the outside temperature becomes colder the standard heat pump becomes less efficient and the supply air at temperature starts to fall. It is not uncommon for the supply air temperature to reach 80 degrees in the coolest times of winter.

Warmer Discharge Air vs. A heat Pump System

For some people, especially elderly and people that have a hard time staying warm, that low of a discharge air temperature is much too cold. This is where a high efficiency gas furnace will be appreciated. Even in the coldest temperatures a gas furnace can deliver discharge air temperatures above 120 degrees.
The versatility of a Hybrid Heat System is unique because the homeowner, along with the User interface control (the thermostat) can switch to either heating system based on the most efficient and comfortable source of heat that meets their lifestyle.

If you are on propane, the normal size home will use lass that one 500 gallon tank per year

You will only buy propane one time a year and will purchase the propane when it is normally the least expensive time of year (the summer fill).
I would recommend the purchase of your own tank vs. leasing. This way, you can shop for propane and chose the company based on service and cost effectiveness.

Allows for temperature set back and provides quick efficient recovery of home,
Systems can switch from Heat Pump to Gas Furnace automatically

Based on the outside air temperature or 2 degree swing in indoor temperature
Advanced Côr™ Wi-Fi® Thermostat: Factors in the fuel cost and selects the equipment that is most efficient to operate depending on outside temperatures
The Côr™ Wi-Fi® Thermostat also uses Smart Recovery: during set-back the Côr™ Wi-Fi® Thermostat learns your home and just how soon it should bring on the heating equipment and recover the home to normal temperatures. The Côr™ Wi-Fi® Thermostat will select the heat pump or the furnace to recover your home's temperature normal set point based on outside temperatures and the amount of temperature set back during unoccupied mode.
Advantages of a Multi-Stage Heating and Cooling System
Staging of the equipment allows the system to more closely match the actual heating and cooling loads of your home. This allows the equipment to operate more efficiently, will less starts and stops.
Staging helps to create much more even temperature throughout the home.
In the cooling mode, staging of the unit can remove as much as 10 times more moisture from our home than a single stage system.
Staging prevents short-cycling of equipment, which means the equipment is starting and stopping very rapidly and reducing the life and efficiency of the equipment.
Carrier has been focusing on manufacturing multi-stage equipment since the early 1990s. It is through this experience and track record that the multi-stage equipment has come of age and is very reliable. We have been installing the Carrier equipment since 1995 and have found the Carrier equipment to be very reliable and well supported through training and parts support.
Our Experience with Hybrid Heating Systems
Edmundson Mechanical Services, Inc. has been installing Hybrid Heating Systems and Multi-Stage Heating and Air Conditioning systems for over 20 years.
The systems truly separate us from many other contractors, with today's higher electric rates and lower gas cost, these systems are proving to be one of the most effective heating and cooling systems a homeowner can install in their homes.
The technology and use of a hybrid can save homeowners money on their long term owning and operating cost.
Gas Furnace Choices for Hybrid Heat Systems
Heat Pump Choices for Hybrid Heat Systems