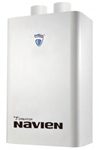 After heating and cooling, water heating is typically the largest energy user in the home because it is necessary for so many domestic activities. The capacity of a water heater is an important consideration. The water heater should provide enough hot water at the busiest time of the day. We offer a wide variety of electric, gas and tankless water heaters.
Tank & Tankless
We offer both tank and tankless water heaters: Navien Tankless Water Heaters and AO Smith Tank Water Heaters.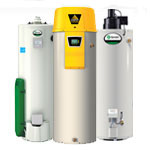 Electric Water Heaters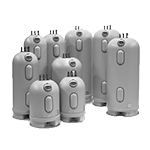 Marathon Series Residential
Rheem Marathon Series lifetime electric water heaters feature a high-efficiency design with a lightweight tank that won't corrode. It is the most durable electric water heater ever made. The unique, award winning construction of the seamless plastic tank means a product that is stronger, of higher quality and longer lasting. Titanium lower and copper upper elements resist lime buildup and operate more efficiently. These features, along with the BEST warranty, mean the BEST value for an electric water heater in the industry! The tank has a limited LIFETIME warranty and the parts have a six year warranty. Rheem Marathon Series lifetime electric water heaters are designed primarily for Residential use providing years of hot water for you and your family.
Frequently Asked Questions